Braces in San Luis Obispo & Los Osos, CA
---
A straight smile is a healthy smile. When the teeth are aligned, optimal function, health, and aesthetics can be achieved, offering a lifetime of benefits. At Barrett Family Orthodontics, we offer several different types of braces for patients of all ages. Here, we will explore the various types of braces we offer and discuss the differences between early and adult orthodontic treatment.
Early Treatment: Phase I Orthodontics
Did you know that the American Association of Orthodontists recommends bringing your child in for his or her first orthodontic assessment by age seven? This is because the bones of the face and jaw are still forming and developing during this time. Therefore, if we detect an issue, it is much easier to treat it while the skeletal structures are flexible and malleable.
This, of course, does not mean that every child will need early orthodontics, or phase I treatment. In many cases, children begin wearing braces around the age of 11 or 12. In some instances, children may undergo early treatment before moving to phase II treatment as an adolescent.
Benefits of Children's Braces
For those who can benefit from phase I treatment, it can correct many issues proactively, before they progress. This can help prevent costlier, more invasive procedures in the future. In addition, early orthodontics can:
Reduce or eliminate the need for braces in the future
Prevent future extractions or jaw surgery
Increase space so that permanent teeth can erupt in better alignment
Help correct or prevent deformation of the upper jaw due to tongue thrusting or thumb-sucking habits
Adult Braces
Several decades ago, braces were considered a treatment for children. Adults rarely, if ever, sought orthodontics. Today, however, we understand that braces can benefit individuals of all ages. In fact, many of our patients at Barrett Family Orthodontics are over the age of 21.
Are you interested in a more discreet orthodontic option? Find out if you qualify for Braces. Call your orthodontist in San Luis Obispo & Los Osos, CA at (805) 541-3411 & (805) 528-7121
Benefits of Adult Orthodontics

Orthodontics are about more than a beautiful smile – though we can certainly achieve that, too! When your teeth are in proper alignment, all elements of your smile work together for optimal health and function. Whether you're 30, 50, or 70, there is no such thing as "too old for orthodontics". Adult braces offer a number of benefits. Here are a few reasons why many adults choose this treatment:
Properly aligned teeth are much easier to brush and floss. Furthermore, there are fewer places for bacteria to hide and breed.
Untreated orthodontic problems can progress over time, resulting in the need for more expensive, invasive treatments.
A straight smile can have a serious positive impact on your self-esteem and confidence.
Types of Adult Braces Available
There are several types of braces available for adult patients. At our practice, we offer: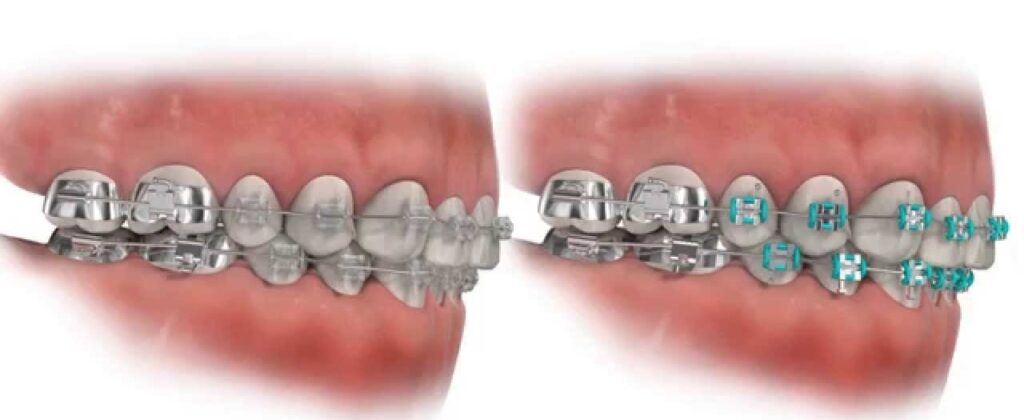 Conventional metal braces: Likely what you picture when you think of braces, these traditional appliances move the teeth into their desired positions using surgical steel wires, brackets, and bands.
Clear braces: Similar in design to traditional braces, this option consists of clear or tooth-colored brackets and a frosted archwire. As a result, clear braces are much less noticeable than their conventional counterparts.
Self-ligating braces: While traditional braces require elastics to attach the archwire to the brackets, self-ligating braces utilize special clips to achieve this. This option helps reduce discomfort associated with tooth movement and typically requires fewer orthodontic visits.
Invisalign®: Those who desire the most discreet orthodontic option can choose Invisalign. This system gradually moves the teeth into place using removable, clear thermoplastic trays.
Every treatment plan is designed to meet the unique needs of each patient. During a consultation with Dr. Barrett, he can help you determine which orthodontic option is right for you.
Schedule Your Complimentary Consultation Today
To learn more about braces, or any of the other services we offer at our San Luis Obispo, CA practice, schedule a visit. Contact Barrett Family Orthodontics online or call our office at (805) 541-3411.