Orthognathic Surgery in San Luis Obispo, CA
---
One aspect of a proper and functional bite is the underlying upper to lower jaw relationship. When the jaw is not in harmony with other orofacial structures, it can lead to a number of oral health issues, including jaw pain, tooth erosion, and even can increase the risk of sleep apnea. Jaw relationship problems can also make routine tasks – such as speaking, eating, and swallowing – more difficult. Dr. Jeremy Barrett partners with trusted oral surgeons to correct these issues with orthognathic surgery.
What is Orthognathic Surgery?
In simple terms, orthognathic surgery is corrective jaw surgery. Orthognathic surgery is indicated when the upper to lower jaw growth relationship did not occur evenly. Orthognathic surgery corrects the upper to lower jaw growth discrepancy by properly positioning them relative to each other. The actual surgical procedure is always performed in conjunction with orthodontic treatment using traditional braces or Invisalign. Orthodontic treatment occurs before and continues after jaw surgery, depending on the specific needs of the patient.
When is Orthognathic Surgery Necessary?
Orthodontic treatment is beneficial for misaligned teeth. However, if your orthodontic issues are skeletal in nature, corrective jaw surgery is the only way to achieve optimal alignment and function to promote proper health. There are several warning signs that indicate orthognathic surgery may be necessary, including: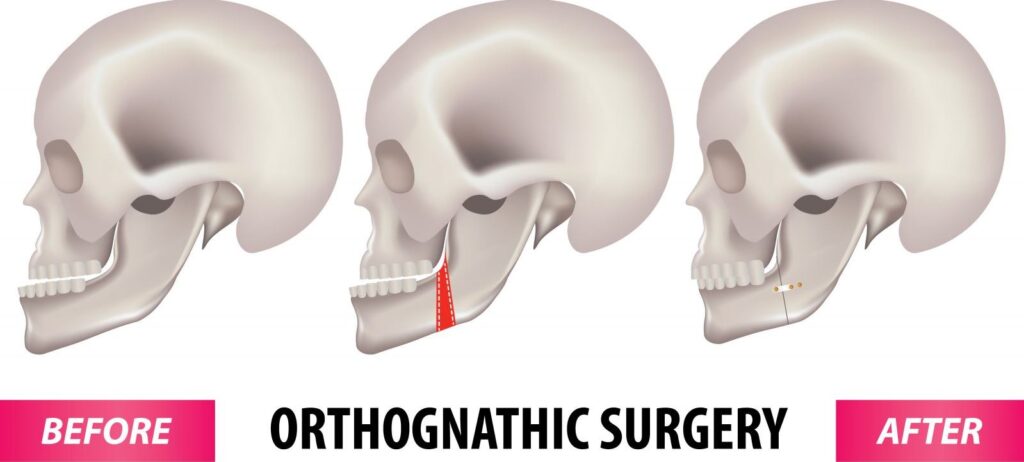 Difficulty biting or chewing
Problems swallowing
Obstructive sleep apnea
Tooth erosion, or wear and tear
Unbalanced facial features
Receding chin and lower jaw
Benefits of Corrective Jaw Surgery
Orthognathic surgery is advantageous for many reasons. Here are some of the most notable benefits:
Jaw surgery can help enhance your ability to chew and speak properly.
Orthognathic surgery may help improve the airway.
Patients who undergo corrective jaw surgery can enjoy enhanced aesthetics. Jaw realignment can bring balance and symmetry to a smile, resulting in an improvement in overall appearance.
Are you interested in a more discreet orthodontic option? Find out if you qualify for Orthognathic Surgery. Call your orthodontist in San Luis Obispo & Los Osos, CA at (805) 541-3411 & (805) 528-7121
Treatment Process: What to Expect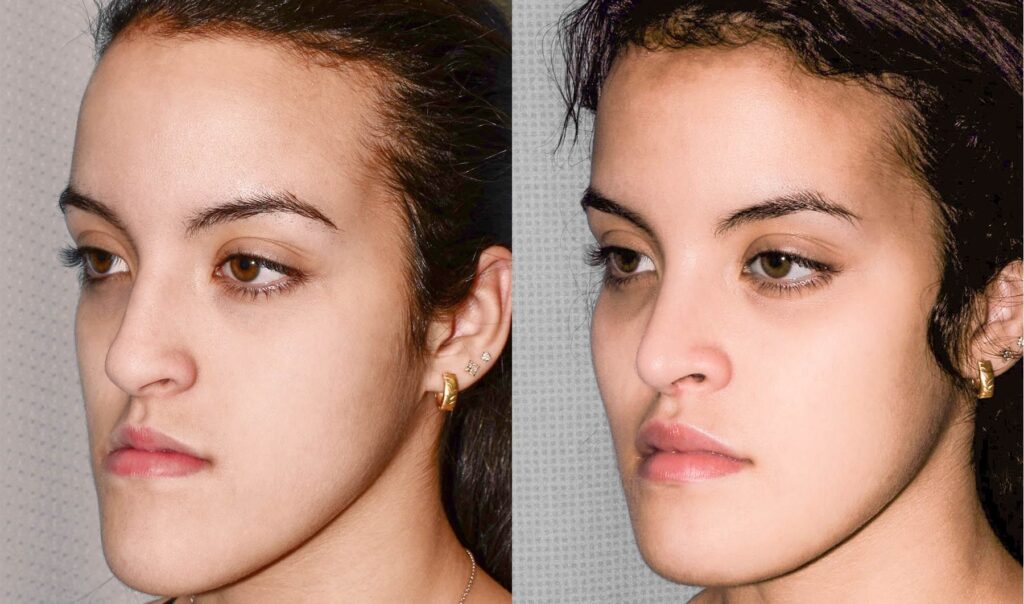 Orthognathic surgery patients require orthodontic treatment before undergoing jaw surgery. In such cases, it usually takes about 12 to 18 months to complete this pre-surgical phase.
Next, the jaw surgery can be scheduled. The procedure is performed by an oral surgeon under general anesthesia.
After the recovery period post-surgical orthodontics is indicated to stabilize the bite and finish any post-surgical details.
Recovery and Results
Following orthognathic surgery, most patients can resume light activities in about one to three weeks. However, full recovery typically takes approximately three months.
Contact Barrett Family Orthodontics
Orthognathic surgery is not indicated for most patients. But those who can benefit from this procedure can enjoy a drastic improvement in overall quality of life. To learn more about this procedure, schedule a consultation at our San Luis Obispo, CA or Los Osos, CA practice. Call us at (805) 541-3411 or contact us online.