Invisalign First: Early Treatment for Young Smiles
---
Invisalign® isn't just for teens and adults anymore. Align Technology, Inc. announced Invisalign First in 2018 – an orthodontic system designed exclusively for younger patients with mixed dentition (both primary and permanent teeth). These clear aligners are used during early interceptive treatment to correct a variety of malocclusions. We are proud to offer Invisalign First at Barrett Family Orthodontics.
About Early Orthodontic Treatment
Early treatment – or Phase I orthodontics – helps guide the growth of the jaws while the orofacial bones are still developing. The majority of children do not require early treatment. However, if Dr. Barrett detects any potential issues, Phase I orthodontics can prevent the need for extractions, surgery, or other invasive procedures later on.
Traditionally, Phase I treatment consisted of metal braces or other appliances like retainers or palatal expanders. Now, Invisalign First can help achieve the same results in a more discreet, comfortable fashion.
Early interceptive treatment can typically be completed in about one year or less. Once this step is complete, your child will wear a retainer until the permanent teeth come in. At this point, we will continue with Phase II if necessary. Phase II is the standard course of orthodontics, which typically begins around the age of 11 or 12.
How Invisalign First Can Help
Invisalign First is designed to target specific problems that occur in younger orthodontic patients. This system can treat several conditions, including:
Narrow palate
Spacing
Crowding
Overbite
Underbite
Misalignment
Protruding teeth
If your child is around the age of seven, and has not visited an orthodontist yet, schedule an appointment at our practice. We can help you determine if early treatment will be beneficial. Call your orthodontist in San Luis Obispo & Los Osos, CA at (805) 541-3411 & (805) 528-7121
Simply stated, Invisalign First gives you a head start for correcting orthodontic issues. As a result, Phase II treatment, if necessary, can be completed faster and much more effectively.
Benefits of Invisalign First
Compared to traditional braces, Invisalign First offers a wide range of advantages, including: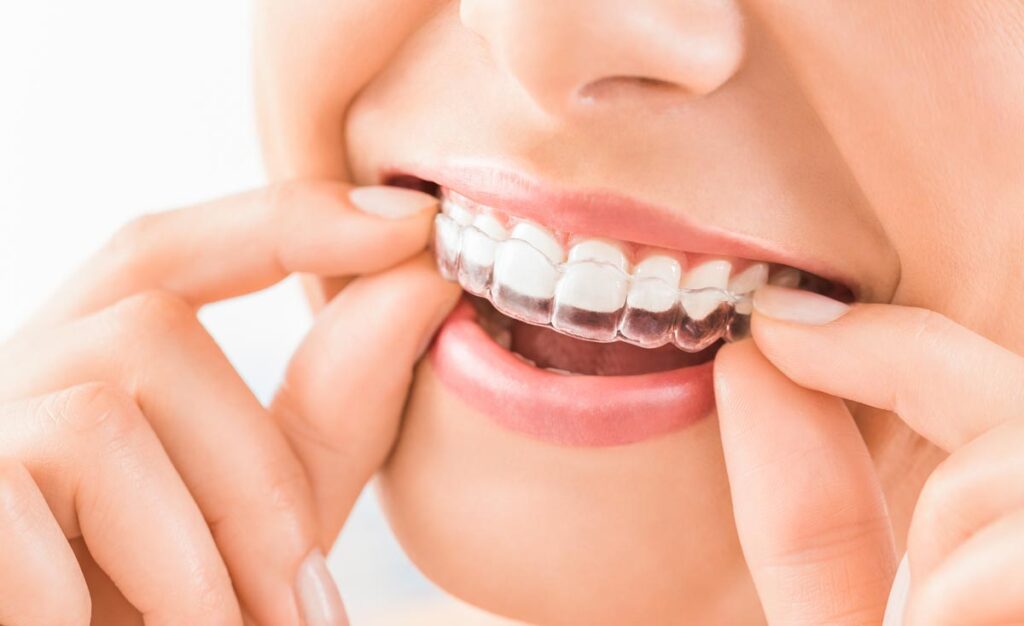 Optimal comfort: Clear aligners are designed according to your child's unique dental anatomy. The trays fit snugly over the teeth for a secure, comfortable fit and almost no emergency appointments.
Improved oral hygiene: It can be challenging for your child to brush and floss effectively around metal brackets, bands, and wires. With Invisalign First, the trays can simply be removed, so oral hygiene is a breeze.
No dietary restrictions: Another benefit to removability is that there are no dietary restrictions. Your child can eat his or her favorite foods while undergoing orthodontic treatment.
No irritating wires or brackets: Metal braces can irritate oral soft tissues, leading to soreness and discomfort. Invisalign First trays are made from sleek, smooth thermoplastic materials for optimal comfort.
Safe: All Invisalign trays are fabricated from medical-grade BPA-free plastic. They have been FDA-approved since their advent in 1998.
Reduced need for emergency visits: Metal braces have components that can break or become loose.With Invisalign First, this risk is significantly reduced.
Notable Features of Invisalign First
Along with all the great benefits of standard Invisalign, Invisalign First offers a few unique features for younger patients. Here are the most notable:
SmartForce® optimized attachments help improve predictability of tooth movement.
SmartStage® technology applies gentle force in specific areas to maximize treatment outcomes.
Expanded eruption compensation features allow extra space for changing dentition.
Learn More about Invisalign First
If your child needs early interceptive treatment, consider what Invisalign First can do. To learn more, or to schedule a visit in Los Osos or San Luis Obispo, CA, contact us anytime.